Apr 19, 2022 04:14 AM Central
Sandra Slotboom
Acupunctuur bij Hooikoorts
Afgelopen week raakte ik in gesprek met iemand die last had van hooikoorts en die verbaasd was dat acupunctuur bij hooikoorts gebruikt kan worden. Hoe werkt dit dan vanuit de Chinese geneeskunde? In dit artikel wil je wat inzichten geven daarover en natuurlijk tips om zelf aan de slag te gaan.
Wil je na het lezen van dit artikel aan de slag met acupunctuur? Maak
een afspraak
voor een behandeling.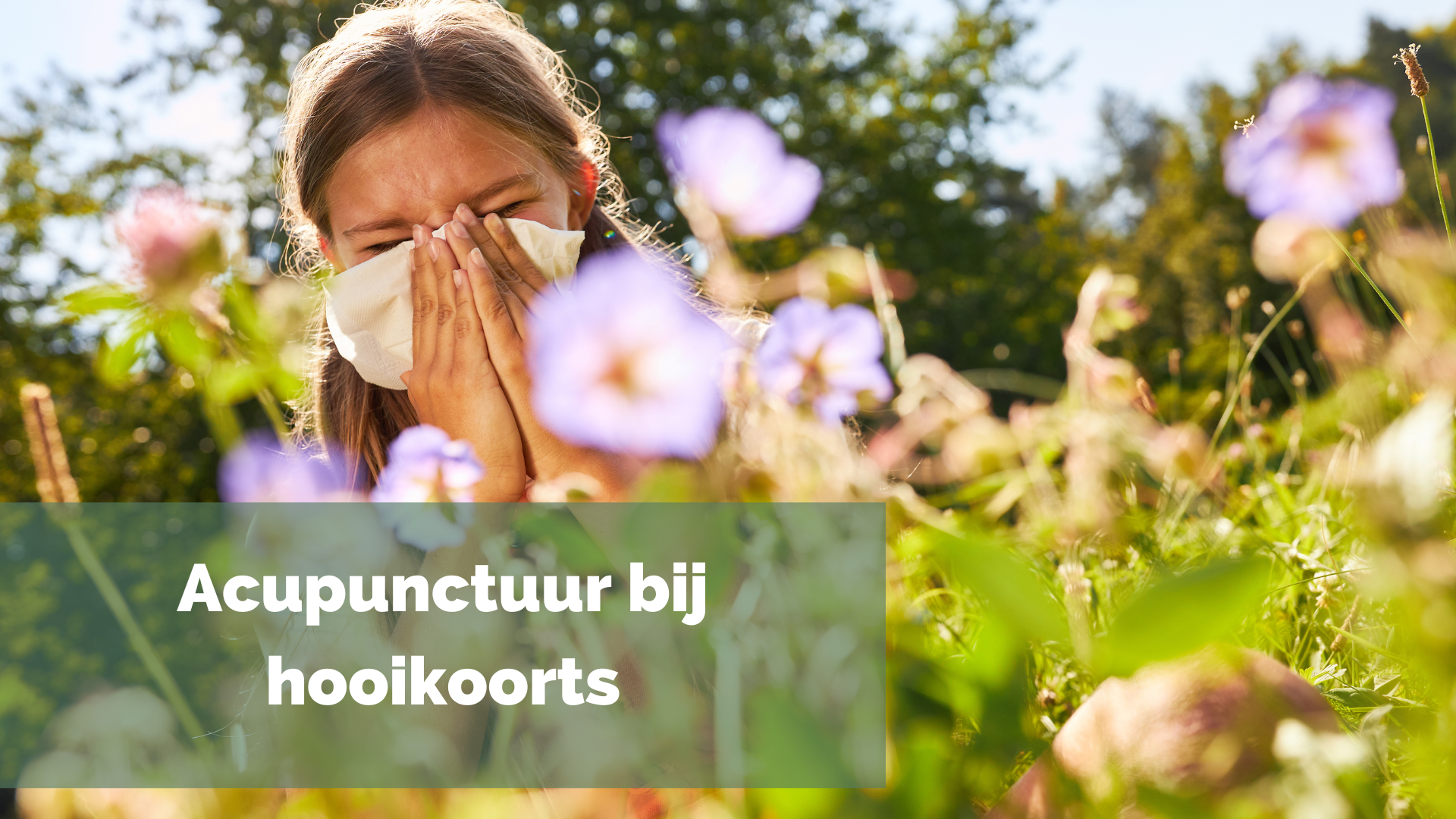 Ik ben zelf ontzettend fan van de lente, maar begrijp ook dat als je alleen maar loopt te snotteren, niezen en traanogen hebt, het dan niet zo'n leuk seizoen is. In mijn praktijk heb ik al veel mensen mogen helpen om hun klachten te verminderen.
Vanuit de Chinese geneeskunde gezien is hooikoorts meestal een aanval van Wind-Hitte of Wind-Koude. Onderliggend speelt er meer mee in het lichaam, maar in dit artikel richt ik mij op de Wind.
Long Qi leegte

Bij het artikel over
vermoeidheid
hebben we al gezien dat een Leegte van verschillende Organen een probleem kan zijn. Ook bij hooikoorts zien je we dit terug. Hierbij is een Long Qi Leegte een belangrijke oorzaak. De Long is een belangrijk Orgaan in jouw immuunsysteem. Een Leegte zal daardoor zorgen dat een "Externe Wind", Wind die van buiten komt, sneller het lichaam in komt doordat het lichaam zich niet goed hiertegen kan beschermen.
AANVAL VAN WIND



Wind komt meestal niet alleen, maar kan gecombineerd worden met bijvoorbeeld Kou of Hitte. Dit herken je aan verschillende symptomen.
Symptomen die bij Wind altijd voorkomen zijn een aversie voor koude en een warmtegevoel van het lichaam. Het verschil tussen Koude en Hitte kun je zien aan de slijm uit de neus: bij Koude is deze wit-waterig, bij Hitte is deze gelig.
Deze Wind dringt het lichaam binnen via de huid. Onder de huid circuleert de verdedigings-Qi van het lichaam.
Deze verdedigings- Qi "strijdt" tegen de Wind om deze zo snel mogelijk het lichaam weer uit te krijgen.
Als dat niet lukt, dan kan er een loopneus ontstaan. Er zijn grofweg 2 manieren waardoor de Wind kan leiden tot hooikoorts. Enerzijds dus een leegte van de Long Qi, maar aan de andere kant kan de Wind zo sterk zijn dat er geen verdediging tegen opgewassen is.
Als je zonder goede kleding naar buiten gaat in een storm, begrijp je vast wel dat je vatbaar kunt zijn voor Wind. Maar ook de airco binnenshuis of op de tocht zitten kunnen Wind in je lichaam brengen.
Zelfbehandelingstip 1
Er zijn meerdere punten om Wind te verdrijven, waarvan dit er eentje is die je goed zelf kunt doen. Het 4e punt van de Dikke Darm meridiaan. Je vindt dit punt op de verhoging tussen duim en wijsvinger. je masseert richting het middenhandsbeentje.
In de video zie je waar je het punt kunt vinden.
Zelfbehandelingstip 2
Met deze combinatie van meridiaanstrekking en ademhaling beïnvloed je het Metaalelement, waar de Long bij hoort. In de video zie je de oefening voor de rechterarm, uiteraard herhaal je de oefening met je linkerarm aangezien de meridianen zowel links als rechts lopen.
Ik hoop dat ik je geïnspireerd heb om aan de slag te gaan met jouw hooikoorts.
Wil je liever niet zelf aan de slag of is jouw hooikoorts té sterk om er zelf mee aan de slag te gaan?