May 2, 2022 01:40 PM Central
Sandra Slotboom
Acupunctuur bij slapeloosheid
Er zijn vele vormen van slapeloosheid en dus ook vele oplossingen. In dit artikel neem ik je mee naar de invloed van
de 5 elementen
bij slapeloosheid. En zoals bij alles in de Chinese geneeskunde draait het om balans tussen deze 5 elementen.
Wil je na het lezen van dit artikel aan de slag met acupunctuur? Maak een afspraak voor een behandeling.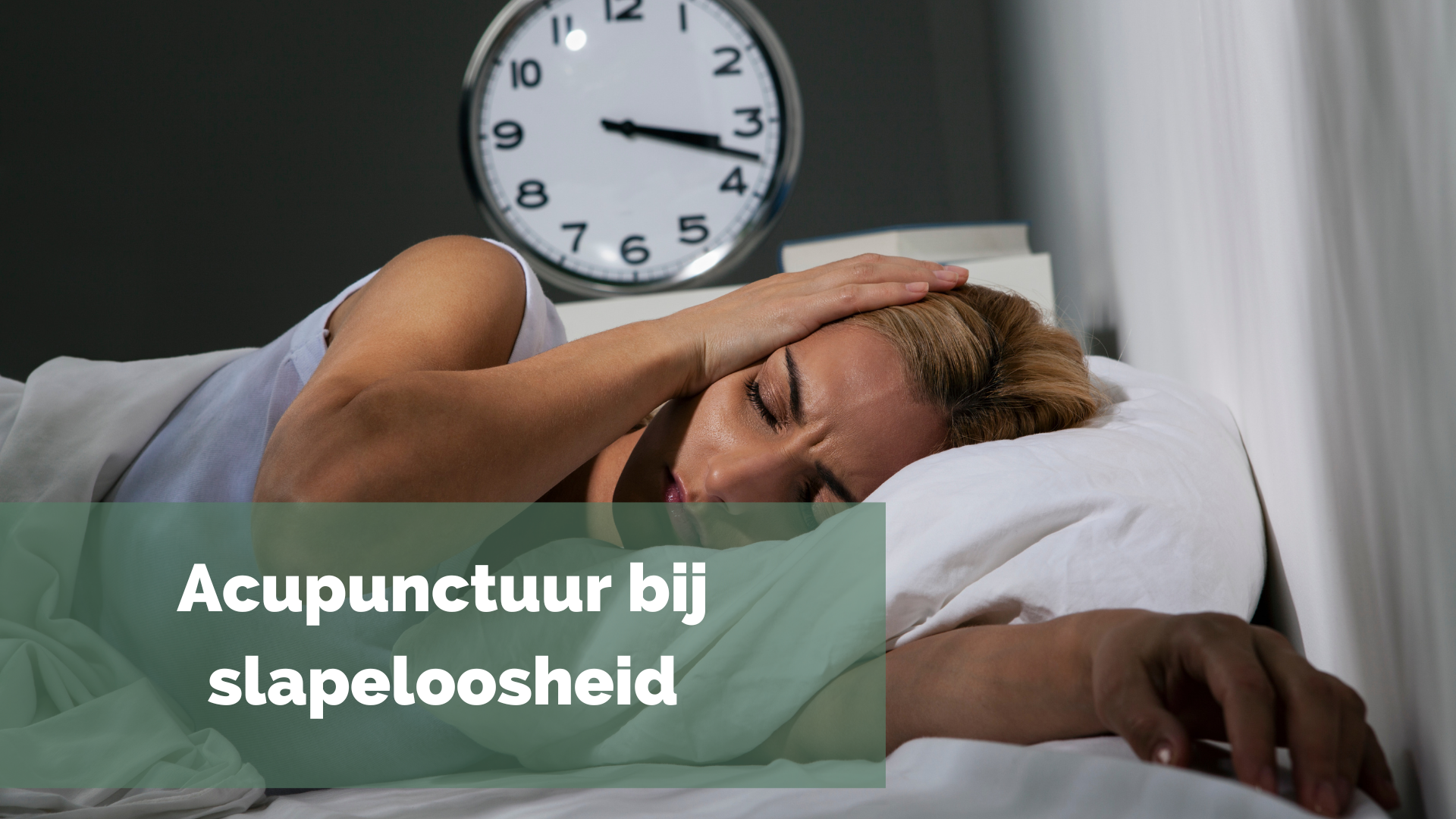 Elk element heeft op één of andere manier een effect op slapeloosheid, de elementen die de grootste invloed hebben zijn het Hout- en Vuurelement, maar ook de andere 3 elementen heb je nodig om in balans te blijven.
Vuur- en Aarde-element

Slapeloosheid kan betekenen dat je moeite hebt met inslapen, heel vroeg wakker bent, veel droomt of regelmatig naar het plafond ligt te staren.
Het Vuurelement, het element van de "Shen" of "spirit", is vooral belangrijk voor de duur en de kwaliteit van de slaap. De Shen bevindt zich in het Hart en de bloedvaten. Eén van de redenen waardoor de Shen aangetast kan worden is emotionele spanning.
Het Aarde-element is belangrijk bij de aanmaak van Qi
en Bloed (waar de Shen verblijft), dit element

kun je bijvoorbeeld versterken met deze strekking voor het Aarde-element: de kameel.
Je kunt deze strekking doen met de handen in de rug, één hand bij de hiel en de andere omhoog zoals op de foto of met beide handen op de hielen. Blijf een aantal ademhalingen in deze houding en voel de strekking aan de voorkant van romp en bovenbenen, het gebied van de Milt- en Maagmeridiaan.
Metaalelement
Elk orgaan heeft 2 uur per dag zijn toptijd en 2 uur per dag zijn daltijd. Dit kun je gebruiken als iemand aan slapeloosheid leidt. Als je bijvoorbeeld tussen 3.00 en 7.00 regelmatig wakker wordt, kan dit duiden op een disbalans van het Metaalelement. De Long heeft zijn tijd van 3.00-5.00 en de Dikke Darm van 5.00-7.00.
Een ander teken van een disbalans van het Metaalelement bij slapeloosheid is dat je moeite hebt om op je rug te liggen. Vaak krijg je het dan benauwd.
water- en Houtelement
Ook een disbalans van het Waterelement kan slapeloosheid veroorzaken. Dit komt omdat één van de "3 schatten" (Jing, Qi en Shen) bij het Waterelement hoort, nl. Jing. En dat is de basis voor de Shen van het Vuurelement.
Het Houtelement tenslotte is vooral belangrijk bij dromen: een door dromen verstoorde slaap duidt vaak op een disbalans van het Houtelement.
Zelfbehandelingstips
Met deze yogaserie beïnvloed je alle elementen en kun je daardoor ook bij slapeloosheid gebruiken. Doe deze elke ochtend en je komt beter in balans.
Deze strekking voor het Metaalelement kun je gebruiken om je Metaalelement te versterken als je 's nachts tussen 3.00 en 7.00 regelmatig wakker wordt.
Niet schrikken: dit hoeft niet 's nachts maar mag gewoon overdag.
Ik hoop dat ik je geïnspireerd heb om aan de slag te gaan met jouw slapeloosheid.
Wil je liever niet zelf aan de slag of is jouw slapeloosheid té sterk om er zelf mee aan de slag te gaan?