07/21/2022 05:00 AM Central
Sandra Slotboom
Acupunctuur bij reuma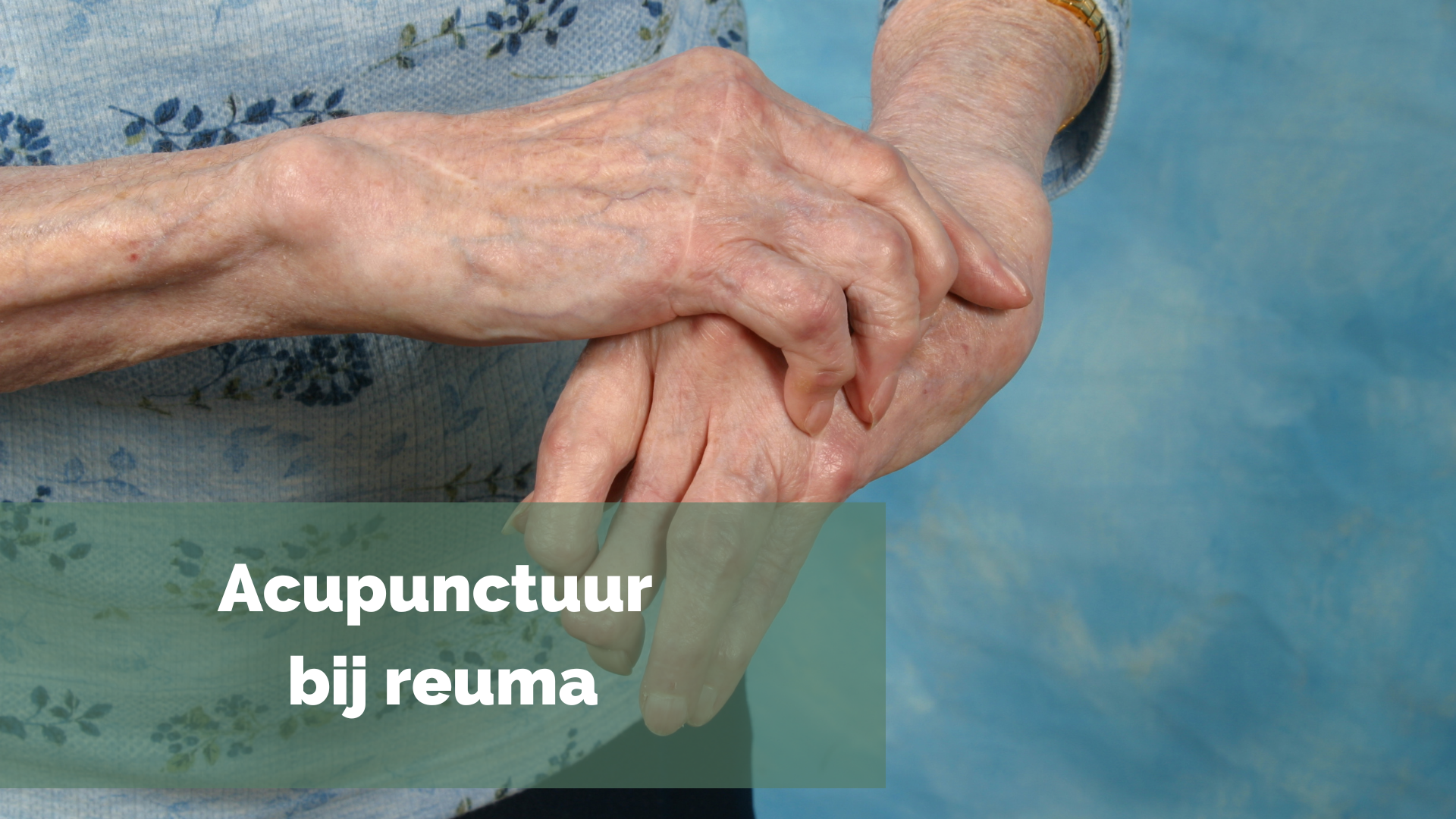 Acupunctuur bij reuma richt zich vooral op de vermindering van pijnklachten en zwelling. Dit kan vaak al tot een betere levenskwaliteit leiden: je kunt weer makkelijker bewegen en daarmee ook jouw klachten verlichten.
Net als fibromyalgie, is reuma geen term die we in de acupunctuur gebruiken, omdat we vooral kijken naar de symptomen waar iemand last van heeft. In deze blog leg ik de achtergrond vanuit de acupunctuur uit en geef natuurlijk wat oefeningen die je zelf kunt doen.

Bi syndroom

Reuma valt onder de "Bi syndromen", ook wel "Syndroom van pijnlijke obstructie" genoemd (zie ook: frozen shoulder) Uit de naam kun je al afleiden dat er sprake is van een obstructie of stagnatie, die vanuit de Chinese geneeskunst wordt gezien als één van de veroorzakers van pijnklachten. Je kunt pijn voelen, maar ook alleen gevoeligheid of tintelingen in de spieren, pezen of gewrichten.
Deze obstructie zit bij een Bi syndroom alleen in de meridianen en wordt veroorzaakt door een combinatie van zogenoemde EPF's. Dit is een Externe Pathogene Factor, wat betekent dat hij van buiten het lichaam komt. Dit kan bijvoorbeeld de combinatie Wind, Damp of Koude zijn. Afhankelijk van welke EPF domineert, ervaar je andere klachten.
Luomeridianen
De meridianen die het eerst aangevallen worden, zijn de verbindings- of luomeridianen en de spier-peesmeridianen. De luomeridianen vormen een netwerk door het hele lichaam zodat alles met Qigevoed kan worden, ook de lichaamsdelen waar de hoofdmeridianen niet kunnen komen.
De luomeridianen verbinden altijd een Yin met een Yang meridiaan van een element en elke hoofdmeridiaan heeft er eentje. Via de "luopunt" op een meridiaan gaat de Qi naar de gekoppelde meridiaan. Bijvoorbeeld het 7e punt op de Longmeridiaan leidt naar de Dikke darmmeridiaan.
meridiaan-orgaan
Gewrichten zijn plaatsen waar Yin en Yang Qi bij elkaar komen en waar ook de EPF kan stagneren. Gewrichten die zwaar belast worden door werk of sport kunnen makkelijker aangevallen worden en daar kun je eerder stagnatie ervaren.
Bij een Bi syndroom is er alleen aantasting van de Meridiaan en niet van het bijbehorende Orgaan, hoewel dit vaak wel een rol kan spelen bij het ontstaan ervan.
Een EPF dringt namelijk het lichaam binnen doordat ze relatief sterker is dan jouw eigen Qi, wat niet altijd betekent dat jouw Qi dus zwak is. Het kan echter wel voorkomen dat er een Qi Leegte is van een Orgaan.
beweging
Om stagnaties te verminderen is beweging een goede optie. In deze yogaserie vind je diverse strekkingen die betrekking hebben op de vijf elementen. Hierdoor worden je gewrichten soepeler en krijg je een betere doorstroming.
Acupressuur
Galblaas 34 is hét punt om pijn in de gewrichten van het hele lichaam te verminderen.
Naast de Luomeridianen worden ook de spier-peesmeridianen makkelijk aangevallen door EPF's. De punten bij de vingers (en de tenen) van de Hoofdmeridianen zijn tevens de begintpunten van de spier-peesmeridianen. Door deze te masseren beïnvloed je deze meridianen.