08/29/2022 05:00 AM Central
Sandra Slotboom
Acupunctuur bij sportblessures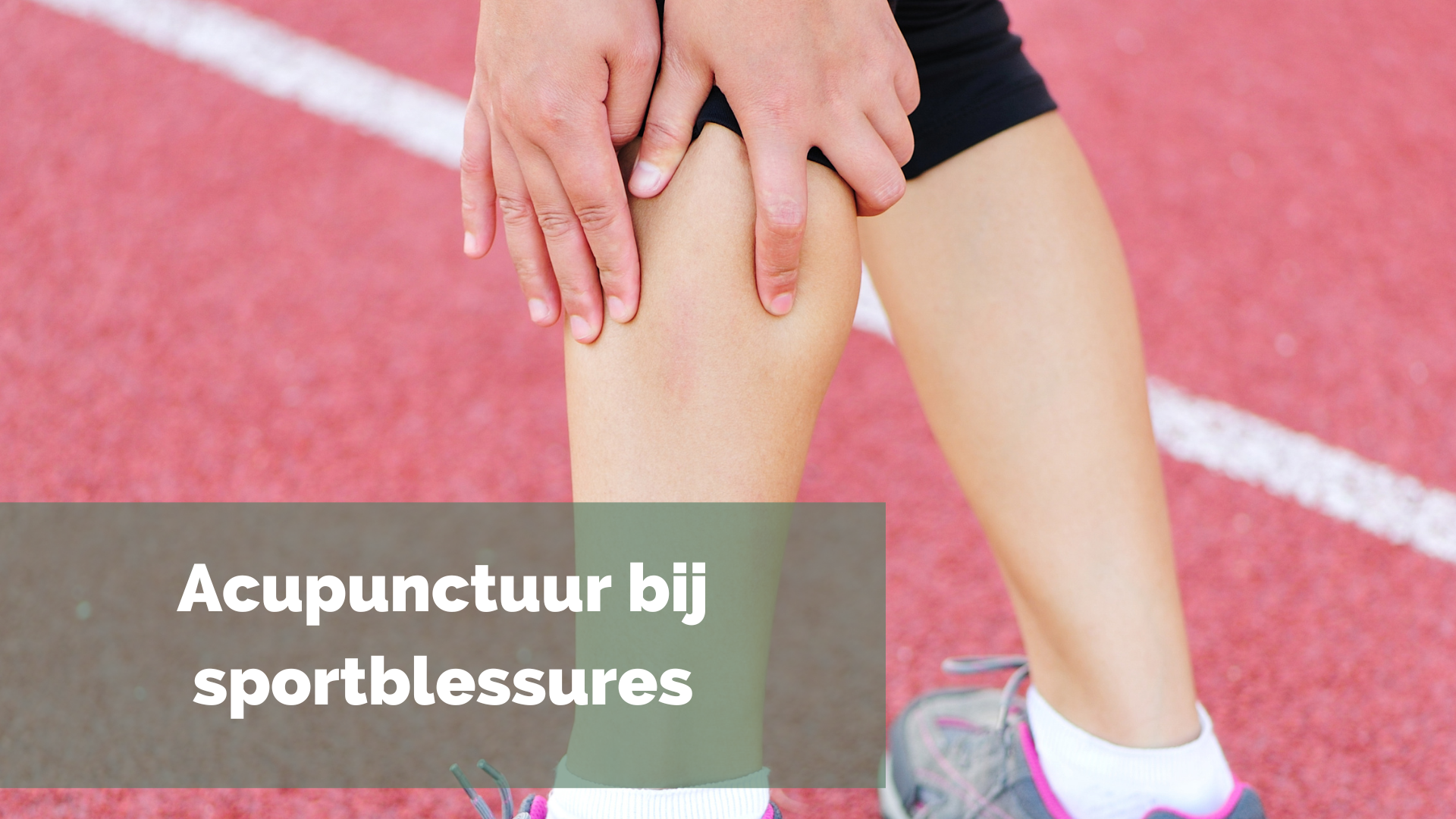 Sportacupunctuur wordt gebruikt bij sportblessures, zoals overbelasting, verzwikking, spierkramp of peesontsteking. Het kan pijn en ontstekingen verminderen en botbreuken sneller laten herstellen. Het kan zowel bij acute als bij chronische blessures ingezet worden.
Sportacupunctuur wordt vaak gecombineerd met cupping (techniek om de bloedcirculatie op gang te brengen).
behandelen en voorkomen van blessures
Sportacupunctuur wordt al sinds eeuwen toegepast door de monniken in China, het was vaak de enige behandeling die ze voorhanden hadden. Het wordt zowel gebruikt om blessures te behandelen als om ze te voorkomen.
In de Chinese geneeskunde is preventie een belangrijk onderdeel. Preventie betekent onder andere het aanhouden van een gezonde levensstijl en een goede balans vinden tussen belasting en belastbaarheid.
belasting en belastbaarheid
Belasting heeft vaak te maken met factoren buiten de sporter om, zoals
Soort sport: krachtsport, snelheidssport, duursport
Intensiteit van de training: topsport of recreatiesport
Sportmaterialen: schoenen, kleding, bescherming
Accommodatie: kunstgras, sporthal, maar ook de weersomstandigheden
Tegenstander

Om het lichaam te trainen en meer weerstand op te bouwen is een bepaalde (over)belasting noodzakelijk. Maar voordat je aan een nieuwe training of wedstrijd begint moet het lichaam voldoende hersteld zijn van de vorige inspanning!
Belastbaarheid is afhankelijk van de sporter zelf en is voor iedereen verschillend. Denk hierbij aan:
Lichaamsbouw
Gewicht
Techniek
Conditie
Leeftijd
Motivatie
Oude blessures
Acupunctuur om prestaties te bevorderen
Sportacupunctuur kan helpen om de prestatie van de sporter te verbeteren door voor of na een training of wedstrijd te behandelen. Het zorgt voor een beter herstel in de niet-actieve periode.
Zo kunnen onder andere de zuurstofopname en doorbloeding worden verbeterd en afvalstoffen sneller worden afgevoerd, waardoor de stijfheid vermindert.
Sportacupunctuur kan spieren sneller laten herstellen van een geleverde prestatie en zodoende ook een grote rol spelen bij het voorkomen van sportblessures door overbelasting.
Bij sportacupunctuur wordt niet alleen het symptoom van de blessure (bijvoorbeeld pijn en zwelling) aangepakt, maar ook eventuele onderliggende zwaktes. Hierdoor wordt de kans op herhaling en het chronisch worden van de klacht kleiner.
Enkele klachten die met sportacupunctuur verholpen kunnen worden zijn:
Achillespeesontsteking
Hamstringblessures
Pijn in de knie
Carpaal Tunnel Syndroom
Tenniselleboog
Verzwikkingen
Spierkramp
Frozen shoulder
Hielspoor
Maar sportacupunctuur is niet alleen maar voor sporters weggelegd. Iedereen met klachten aan het bewegingsapparaat kan er baat bij hebben.
Zelfbehandeling tip 1: meridiaanstrekking
In deze video zie je een meridiaanstrekking voor het Aarde-element. Dit element is verantwoordelijk voor het voeden van je spieren. Daarnaast helpt deze oefening bij heupklachten.
Zelfbehandeling tip 2: acupressuur
Door onderstaand punt rustig te masseren help je stagnaties in het hele lichaam te verminderen.