Sep 26, 2022 08:41 AM Central
Sandra Slotboom
Acupressuur Lever 3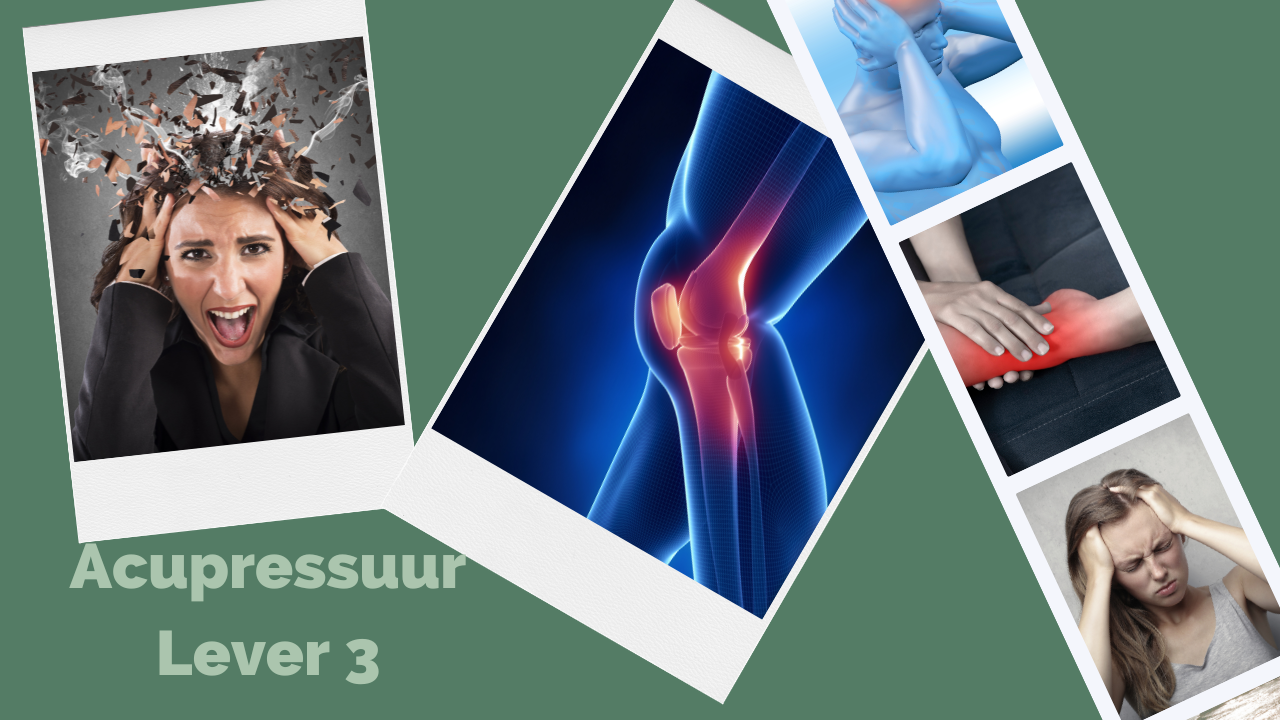 Lever 3, het 3e punt op de Levermeridiaan die begint bij de grote teen, is een belangrijk punt bij hoofdpijn en duizeligheid. Het Externe deel van de meridiaan loopt van de grote teen naar de ruimte tussen de 6e en 7e rib. Het Interne deel loopt helemaal naar de kruin.
Lever 3 heeft vele toepassingen en ik gebruik dit punt erg vaak in mijn acupunctuurpraktijk. Het is gelukkig ook een gemakkelijk punt om zelf te masseren.
Acupressuur lever 3 bij stagnaties
De naam van het punt is Taichong, vertaald als "Grote aanval" en verwijst naar de functie van dit punt als de grote doorgang voor de stroom van Qi in de meridiaan.
Het meest gebruik ik dit punt bij pijnklachten en vooral bij hoofdpijn (een Interne tak loopt immers naar het hoofd). De Lever is namelijk het Orgaan dat ervoor zorgt dat de Qi, zonder stagnatie, door het hele lichaam verspreid wordt.
En één van de oorzaken van pijnklachten is stagnatie. Een andere oorzaak is Qi Leegte, daarvoor kun je andere punten gebruiken.
Naast de functie bij fysieke pijnklachten, zorgen ook gestagneerde emoties voor gezondheidsklachten en Lever 3 is ook het punt om emoties weer vrij te laten stromen. Dit geldt vooral voor boosheid en frustratie omdat dit de emoties van de Lever zijn, maar kan ook bij andere emoties ingezet worden.
Bronpunt
Dit punt is ook het Bronpunt van de Lever, wat betekent dat je hiermee de functie van het Orgaan Lever kunt versterken. Naast het zorgen voor een vrije Qi stroming in het lichaam, is de Lever ook verantwoordelijk voor het voeden van de ogen en de pezen. Daarom kun je dit punt ook gebruiken bij wazig zicht en gezwollen of rode ogen en bij peesklachten.
De Levermeridiaan loopt ook door de onderbuik en Lever 3 kan daardoor ook ingezet worden bij problemen van de blaas, de darmen en de geslachtsorganen. Daarbij kun je denken aan constipatie, menstruatieproblemen of incontinentie.
Inwendig maakt de Levermeridiaan contact met verschillende Organen. Uiteraard met de Lever en het Orgaan wat daarbij hoort in het Houtelement, de Galblaas. Maar de meridiaan loopt ook naar de Long en de Maag. Daaruit kun je opmaken dat dit punt ook ingezet kan worden bij klachten van Long en Maag.
En natuurlijk bij gewrichtsklachten van gewrichten die in de stroom van de meridiaan liggen: enkels, knieën en heupen
Acupressuur Lever 3: locatie
Lever 3 vind je tussen het 1e en 2e middenvoetsbeentje. Als je vanaf de tenen naar de enkel glijdt, val je in een kuiltje, dit is de plek waar je lever 3 voelt. Het punt is bij veel mensen gevoelig, wat ook een teken is dat je op de juiste plek zit.
Masseer dit punt 2-3 minuten, afhankelijk van de klachten doe je dit 3 of meer keer per dag. uiteraard kun je dit punt ook preventief behandelen.