Sep 19, 2023 08:33 AM Central
Sandra Slotboom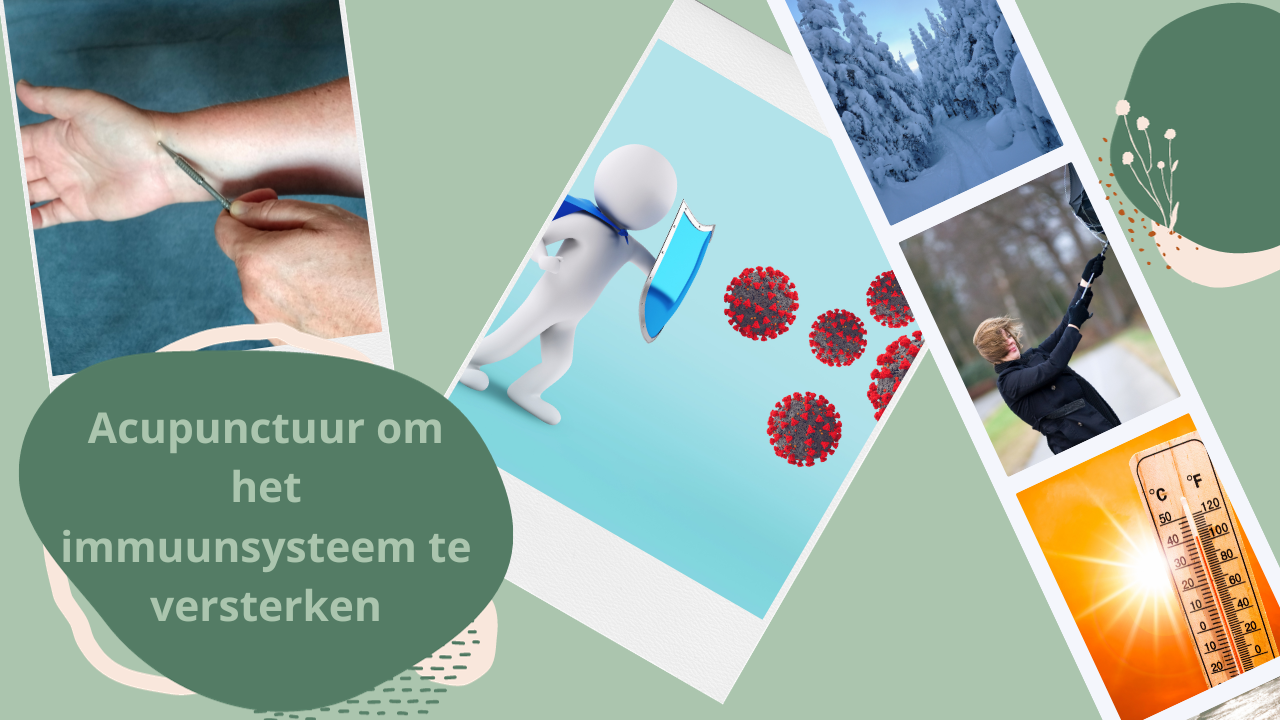 Het is intussen herfstweer geworden en ik hoor weer een hoop gesnotter om mij heen. Vaak zijn dat mensen bij wie het immuunsysteem even wat minder goed werkt. Gelukkig kan acupunctuur helpen om jouw immuunsysteem een boost te geven. In dit blog neem ik verkoudheid als voorbeeld om uit te leggen waarom acupunctuur kan helpen.
Immuunsysteem en de Chinese geneeskunde
Hoe kijkt de Chinese geneeskunst aan tegen het immuunsysteem? Een belangrijk rol daarbij is weggelegd voor het Metaalelement en in het bijzonder voor de Long. De Long zorgt er niet alleen voor dát er Qi door de meridianen stroomt, maar ook dat de Qi verspreidt wordt naar de ruimte onder de huid. Dit is belangrijk als verdediging tegen ziekmakende factoren van buitenaf. Een sterke Longfunctie zal daarom een sterk immuunsysteem opleveren.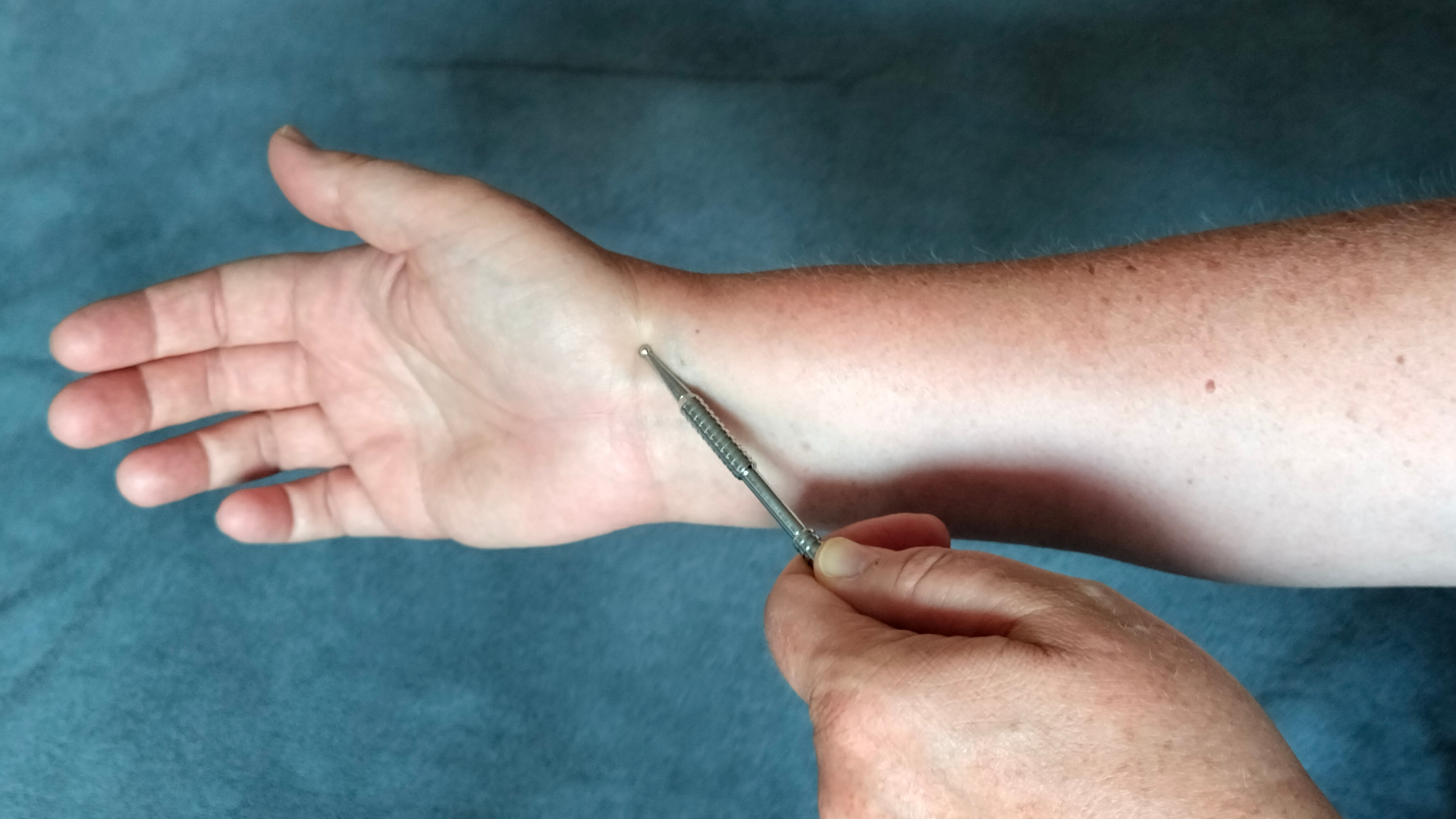 Een punt om de Long te versterken is dit punt op de polsnaad. Glijd vanaf de duim over de duimmuis naar de pols en dan kom je vanzelf op dit punt (het stokje op de foto is alleen om aan te wijzen. Je kunt gewoon met je duim of vingers masseren).
Ziekmakende factoren
Wat zijn dan die ziekmakende factoren van buitenaf? Daarvoor kijken we naar de drie categorieën die volgens de acupunctuur voor klachten kunnen zorgen: de Interne, de Externe en de Overige ziekteoorzaken. Voor dit verhaal zijn de Externe belangrijk. (Interne zijn de emoties, Overige zijn onder andere voeding en leefstijl)
Externe ziekteoorzaken noemen we ook wel eens de klimaatfactoren. Hieronder vallen Droogte, Hitte, Vocht, Koude en Wind (zoals je ziet zijn het er 5, voor elk van de 5 elementen eentje). Deze factoren "vallen" het lichaam aan en jouw immuunsysteem (de Qi die onder de huid circuleert) moet ervoor zorgen dat ze het lichaam niet binnen kunnen dringen.
Aanval van Wind
Gelukkig is het niet zo dat elke "aanval" van Wind tot klachten leidt. Zo'n aanval kan tot klachten leiden als jouw immuunsysteem te zwak is, maar het kan ook zo zijn dat de Wind gewoon te sterk is.
Wind is de belangrijkste Externe factor die tot het gesnotter kan leiden en "neemt" vaak andere Externe factoren mee.
We spreken dan van Wind-Hitte of Wind-koude. Dit is vaak ook de voorloper van ernstigere klachten. Het lichaam kan namelijk nog steeds in staat zijn om deze Wind eruit te werken, voordat het dieper het lichaam binnendringt en daar Organen aan gaat tasten.
Een voorbeeld van Wind die nog in het lichaam zit, is pijn die steeds op een andere plek te voorschijn komt: dan weer in het hoofd, dan weer in de knie, dan weer in de schouder bijvoorbeeld. Ook duizeligheid kan een vorm van Wind zijn.
Als je kijkt naar acupunctuurpunten zie je bij veel punten als functie staan: "verdrijft Wind", dit zijn punten die je ook zelf kunt masseren. Zoals bijvoorbeeld dit punt (ook van het Metaalelement) op het 2e middenhandsbeentje.
Kan jouw immuunsysteem wel een boost gebruiken? Maak dan eens een afspraak voor een acupunctuurbehandeling.